This is a "babydoll" dress currently being sold at one of my favourite places to shop,
Big Dubs
. Here is
Fashion Hayley
wearing the same dress (I'm sorry for reproducing a dodgy photo of you, Hayley!):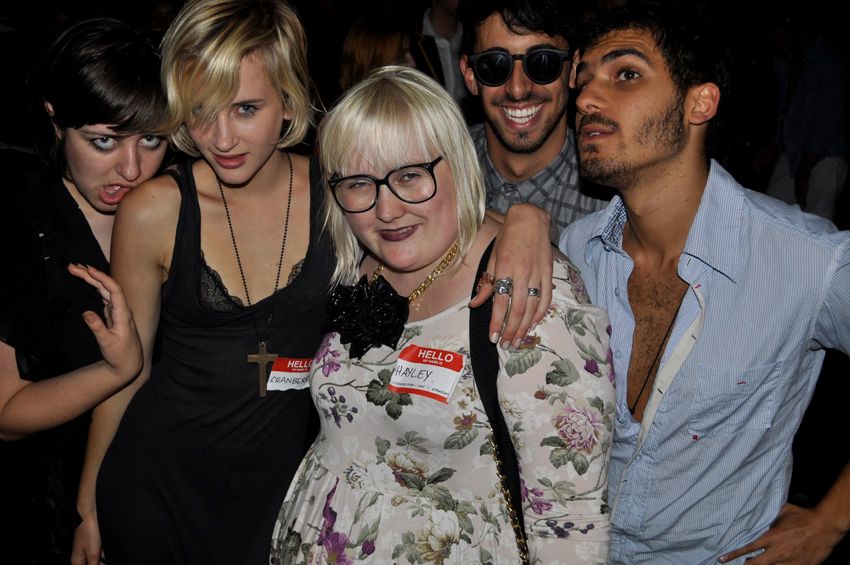 Here's
another pic
of Hayley wearing a very similar dress (that
Big Dubs
probably copied), which is a
Topshop
design for
Incu
.
When I saw the dress in
Big Dubs
I was quite excited because I love floral dresses (and paying as little as possible for my clothes). However, when I tried it on, it looked really terrible on me. As far as the waistline it fitted me well, but I was unhappy with the spot at which the waistline hovered: lower than the empire-line spot under the bust, yet higher than the true waist.
I also didn't like the shortness of the full skirt. I felt it made my body proportions look weird. Personally – and this is just my own taste – the only sort of short skirt I would wear is a straight or stretchy one. I like a full skirt to hit my knees; I think it looks better proportioned that way. I'm not a child, I don't find childlike whimsy appealing, and I don't want to dress in a doll-like or childlike way. A full short skirt just reminds me of retro-styled childrenswear, like something Sally Draper would wear in
Mad Men
:
When I saw
Patty Huntington
's pics from this year's Jayson Brunsdon show at
Rosemount Australian Fashion Week
, I was appalled at how short he has cut his full skirts. I don't even think they look good on the models with their coltish legs.
(Image: Patty Huntington)
But anyway. I know that Hayley does favour short skirts, and I'm not having a go at her sense of style. But it infuriates me that it's almost impossible to find a knee-length skirt in the shops at the moment; they're either these short babydoll styles or long maxidresses.
I also found it very difficult to warm to
The Uniform Project
because of how short the chosen dress was. It's definitely not a style that would look good on many people, although I can appreciate that it adds more versatility to the project because it can be worn as a long-line top as well as a dress.
(This is only tangentially related, but I'm fascinated by trends in the lengths of girls' school uniforms. When I was at school they tried their hardest to stamp out short skirts; the rule was that it had to touch the ground if you knelt. But now I see girls wearing ludicrously short skirts. Oddly, I also see the opposite, especially with winter uniforms: the skirts will be so long they're almost ankle-length.)
I'm using this dress as an example of the practice of
"sitting this one out"
. This is a high-level stylistic knowledge pertaining to your own relationship with fashion cycles. You not only recognise that certain styles are 'fashionable' but also which styles suit you, and you make a tactical decision not to buy, to wait until fashion returns to the things that look good on you.
Right now I'm wearing a black babydoll dress with a cream-coloured 'doily' lace decoration across the bust. I bought it from
Valleygirl
perhaps three or four years ago now and have got a lot of wear out of it since, making a mockery of their 'fast fashion' ethos. I like it because it's elasticised directly under the bust and is gathered, so it glides flatteringly over my midsection. It falls to just on my knee.
Over the top I'm wearing a slouchy red cardigan from
Jay Jays
. I remember when I bought it at the start of last year, I just really wanted a red cardigan and settled for this one. I'd wanted a preppy, tailored style and was annoyed that it was long and loosely fitted, which happened to be the style at the time. So, I didn't sit that one out; instead I compromised. But now I'm enjoying wearing the cardigan, because this winter I've really got back into the grunge silhouette I used to favour in high school: leggings and short, tight skirts with oversized, slouchy T-shirts, flannel shirts and cardigans.